About Us
Premium quality products is what every buyer wants. We understand this requirement of the market and to serve a wide range of different products of the best available grade, we, Kijeka Engineers Pvt. Ltd. have entered into the market. We are a manufacturer, exporter, wholesaler and supplier of a wide product range which includes Drum Trolley Manufacturer, SS Pallet Truck, Single Mast Aluminium Aerial Work Platform, Self Propelled Stock Order Picker, Semi Electric Order Picker, High Lift Pallet Truck, Hydraulic Hand Pallet Truck, Mini Battery Operated Pallet Truck, etc. We work in a very dedicated and sincere manner and the result of this has been quite fruitful. We have been able to survive in the industry for so long and we now we are seen as one of the best manufacturers from India. We started our journey in the year 12th May, 1980 under headship of our esteemed owner and engineer Mr. Rameshchandra Dave. Under his able guidance, we engage in providing handling solutions to various industries today. We are able to provide efficient methods of relocation, transfer and movement of materials and products weighing from 100 to 10000 kgs.

Teamwork
We believe in having a good team and our team has been a major factor for our rise in the sales as well as in increase of our productivity. We have a team which believes in hard work and completes their work with full dedication and sincerity. We understand the importance of working in a fair way and that's why we ensure our team works in a very communicative way. We avoid conflicts and even if some conflicts of opinions arises, we make sure that we brainstorm our way through the challenges and find a relevant solution for them. We also work for the betterment of the society and have been able to do so with the consistency of our team efforts.

Infrastructure and Why Choose Us?
We have a state of the art infrastructure facility which helps us manufacture and deliver our products in a very rapid way. We have different departments which are known for working in an interconnected manner. Our different departments include manufacturing department, quality control and testing unit, warehouse and packaging department, marketing department etc. We have proper electrification and sanitation facilities installed in all these places which helps our employees to work smoothly.
Some reasons to choose us are:

We have made sure that we deliver premium quality products at affordable prices.
Our product range includes Semi Electric Order Picker, High Lift Pallet Truck, Hydraulic Hand Pallet Truck, Mini Battery Operated Pallet Truck, Cargo Backrest Pallet Truck etc., all of which are made by quality experts and our team of professionals well known in their field.
We believe in avoiding malpractices at all costs.

Our Clients
We are working with some of the most prestigious and well renowned companies such as:

Reliance Gas
TATA
ONGC
Adani
Essar, etc.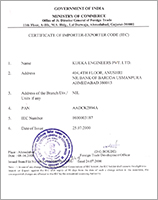 Read More